"The Frog" Tiki Bar
Current Hours :

Thu / Fri / Sat - 4pm

Live Music :

Fri & Sat 7pm (through the end of September) | Sat 6:30-10:30pm (starting 10/6)

Trivia Thursday :

starts 6:30
call for the many upcoming events information

(989) 366-6347

. Frog Days of Summer Party - Sunday 9/1/19 -- Open at Noon and music all day - no cover

Special Hours :

OPEN Christmas Week 12/26 - 12/31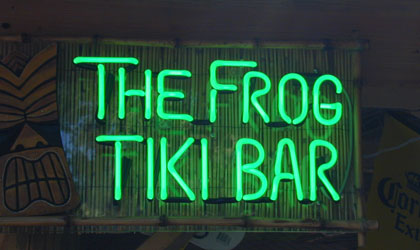 OPEN ALL YEAR ROUND
The only tiki bar in the area!
Come and experience the Margaritaville atmosphere at "The Frog"
Grill Menu Available
Happy Hour Daily (Must Be 21)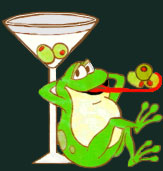 ~ FALL HOURS ~
OPEN Thu / Fri / Sat 4:00pm
**MUST BE 21 TO ENTER TIKI BAR**
Trivia Thursdays starts @ 6:30pm
Live Music Fri & Sat 7:00-11:00pm through the end of September
Live Music Sat 6:30-10:30pm beginning in October
Tiki Bar Party Photos
Photo Galleries
The Frog
Tiki Bar & Grill
~ Fall Menu ~
available Thu 4-9pm | Fri & Sat 4-10pm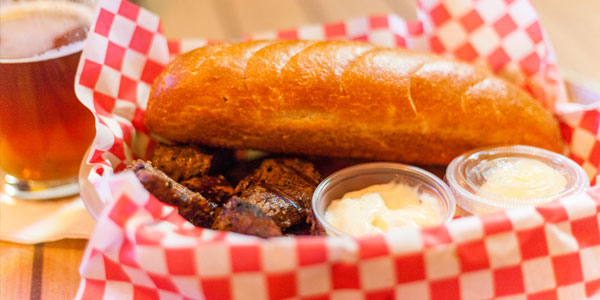 Tiki Bites
The Mighty 12" Pretzel – 15.99
Soft pretzel served with a variety of sauces.
Black Bean Dip – 11.99
House-made refried black bean dip, coved with salsa and cheddar-jack cheese. Baked to perfection and topped with a dollop of sour cream and green onions. Served with tortilla chips.
Chilled Jumbo Shrimp: ½ lb. – 16.99 or 1 lb. – 29.99
Served with cocktail sauce & lemon wedges.
Water Lizard Wontons – 12.99
Alligator tail meat fresh from the pond! (are we kidding?) Melded with red pepper, green onion, cream cheese and Cajun seasoning, wrapped and fried in a wonton shell. Served with SoCo peach sauce.
Cheese Fondue - 14.99
House-made cheese fondue with Fontina, Havarti and Parmesan Cheeses. Served hot with oven-roasted tomatoes throughout and topped with panko bread crumbs. Comes with garlic-herb flatbread batons.
Wing Dings: 6pc – 12.99 or 12pc – 19.99
Served Plain, KC BBQ, Carolina BBQ, Sweet and Sour or Buffalo Hot with Ranch or Bleu Cheese Dressing.
Our Signature Tiki Steak Bites* – 14.99
Beef Tenderloin seasoned and grilled. Served with creamy horseradish sauce & a loaf of bread.
French Fry Basket - 5.99
Ranch Fries Basket - 6.99
Onion Rings Basket w/ Voodoo Sauce - 9.99
Side Salad - 3.99
Daily Soup - Cup 3.99 | Bowl 6.99
Burgers, Sandwiches & Such
All meals served with French Fries
Upon Request: Lettuce, Tomato, Onion & Pickle
All Burgers are prepared to medium-well unless otherwise specified
Ranch Seasoned Fries - add .49 | Onion Rings - add 1.99
The Captain's Catch: 2pc – 10.99 / 3pc - 12.99
Atlantic cod loins, beer battered and deep fried to perfection. Served with lemon wedges, tartar sauce and coleslaw.
Chicken Philly – 14.99
Grilled seasoned chicken breast stuffed into a hoagie bun with sautéed bell peppers, mushrooms and onions, topped with our house made cheese fondue.
Island Dreams Chicken Teriyaki – 12.99
A grilled chicken breast, teriyaki glazed and topped with swiss cheese, grilled pineapple, green onions and spicy sriracha sauce. Served on a toasted bun.
The BOMB! – 14.99
Shaved choice prime rib with sautéed onions, pepperoncinis and jalapeño peppers, topped with pepperjack cheese. Served on a hoagie bun with au jus.
Classic French Dip (Shaved Prime Rib and Swiss Cheese) – 12.99
Half Rack and Honey Fries – 17.99
Slow cooked baby back ribs with house BBQ sauce, served atop French fries drizzled with honey and a dollop of sour cream. Served with a side of coleslaw.
Mushroom and Swiss Deluxe* - 12.99
8oz. Steak burger topped with red wine reduced sliced mushrooms, caramelized onions and swiss cheese.
Tiki Burger* – 10.99
8oz. Steak burger with your choice of American, Cheddar, Pepperjack, or Swiss cheese.
Vegetarian Burger - 11.99
Vegetarian burger made with select grains, black beans, roasted corn and red peppers, smothered with caramelized onions and cheddar cheese. Served with Cajun aioli.
(Vegan without cheese and caramelized onions)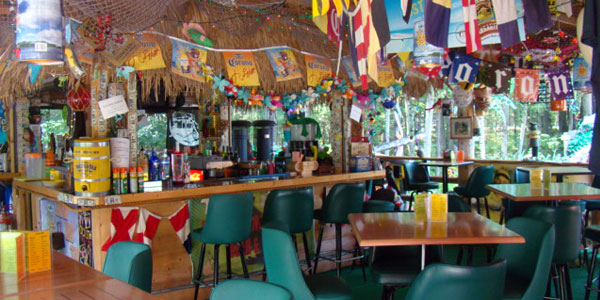 South of the Border
Black Bean Burrito – 11.99
Refried black beans and sautéed bell peppers and onions, wrapped in a flour tortilla. Topped with red enchilada sauce and melted cheddar-jack cheese. Served with shredded lettuce, diced tomato, salsa & Spanish rice.
Add Chicken Tinga - 3.99 | Add Shrimp - 5.99
Cheesy Chicken Enchiladas – 12.99
Slow cooked chicken tinga and cheddar-jack cheese wrapped in flour tortillas and covered with red enchilada sauce and more cheese, then baked to perfection. Served with lettuce, diced tomato and Spanish rice.
Luau Pulled Pork Nachos – 15.99
Single layer of tortilla chips loaded with BBQ pulled pork, pineapple salsa, caramelized onions, cheddar jack cheese, shredded romaine lettuce and fresh diced tomato. Finished with cilantro sour cream sauce and spicy sriracha. Sweet, tangy, spicy and delicious!
Cinco de Mayo Chips n' Salsa – 4.99
Basket of home-made seasoned tortilla chips & salsa.
Add Ons:
Sour Cream - .99 | Guacamole - 2.49
*Item may be cooked to order. Consuming raw or undercooked meats, poultry, seafood, shellfish, or eggs may increase your risk of foodborne illness.