"The Frog" Tiki Bar
Current Hours :

Thu / fri / sat 4pm | Live Music Saturday Nights

Trivia Thursday :

Starts @ 6:30pm

Christmas Week :

Open every day 12/26 - 12/31
OPEN ALL YEAR ROUND
The only tiki bar in the area!
Come and experience the Margaritaville atmosphere at "The Frog"
Grill Menu Available
Happy Hour Daily (Must Be 21)
~ WINTER HOURS ~
OPEN Thu / Fri / Sat 4:00pm
21 AND OVER
Cheeseburger In Paradise Parties
Photo Galleries
The Frog
Tiki Bar & Grill
Menu Available Until 10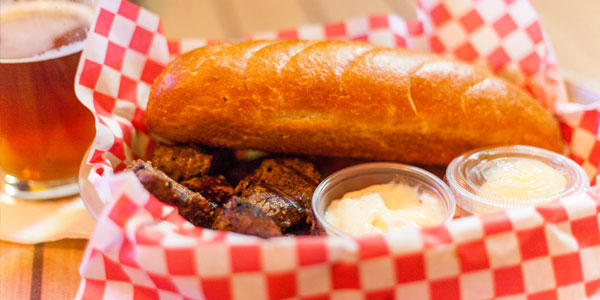 Tiki Bites
Colossal 12" Pretzel – 14.99
Soft pretzel served with a variety of sauces.
Buffalo Chicken Dip – 10.99
Spicy and rich buffalo chicken dip made with feta and bleu cheese and a touch of oregano. Served warm with toasted garlic Pita Points.
Onion Rings Basket – 9.99
Thick cut Spanish onions, beer batter and deep fried. Served with Voodoo zippy sauce.
Coconut Shrimp – 13.99
Seven shrimp, pina colada battered and tossed in shaved coconut, deep fried. Served with SoCo peach sauce.
Sun Baked Bruschetta - 14.99
Artisan flatbread basted with garlic butter and covered with sun-dried tomato pesto, artichokes, Kalamata olives, mozzarella & feta cheese. Baked to perfection & drizzled with olive oil.
Add On: Chicken – 3.99 | Shrimp – 4.99
Jumbo Breaded Wings: 6pc - 11.99 or 12pc - 19.99
Served Plain, Classic BBQ, Asian BBQ, Sweet Chili or Buffalo Hot with Ranch or Bleu Cheese Dressing.
Our Signature Tiki Steak Bites* – 14.99
Beef Tenderloin seasoned and grilled. Served with creamy horseradish sauce & a loaf of bread.
Sides
Side Salad - 3.99
Daily Soup - Cup 3.49 | Bowl 6.49
Burgers, Sandwiches & Such
All meals served with Frech Fries
Ranch Seasoned Fries - add .49
Onion Rings - add 1.99
Deep Fried Perch – 15.99
Lake Perch, beer battered and deep fried to perfection. Served with French fries, tartar sauce and coleslaw.
Morisons Mighty Meatballs – 13.99
Italian style meatballs made with pork and beef, cooked in house made marinara, and served hot on a hoagie roll with mozzarella and parmesan cheese. You can't wait to stuff these mouthwatering balls in your mouth.
Chicken Cordon Bleu Sandwich – 12.99
A breaded chicken breast topped with fire smoked ham, Swiss and bleu cheese, served on a toasted bun.
Loaded Philly Cheesesteak – 14.99
Shaved choice prime rib with sautéed mushrooms, onions and red bell peppers, topped with American and provolone cheese. Served on a hoagie bun with au jus.
Classic French Dip (Shaved Prime Rib and Swiss Cheese) - 12.99
Half Rack and Honey Fries - 16.99
Slow cooked baby back ribs with house BBQ sauce, served atop French fries drizzled with honey and a dollop of sour cream. Comes witha a side of coleslaw.
The Big Texas Burger* - 12.99
8oz. Steak burger topped with fire-smoked ham, cheddar cheese, deep fried onion rings and house BBQ sauce.
Tiki Burger* – 10.99
8oz. Steak burger with your choice of American, Cheddar, Provolone or Swiss cheese.
Black Bean Burger – 12.99
Vegetarian black bean burger, smothered with caramelized onions and cheddar cheese. Served with Cajun aioli.
South of the Border
Black Bean Quesadilla – 10.99
Chipotle Black Beans, Corn, Red Peppers, Red Onions and Monterey Jack chesse grilled in a flavored tortilla. Served with salsa & Spanish rice.
Add Chicken - 3.99 | Add Shrimp - 4.99
Shrimp and Chorizo Enchiladas – 14.99
Authentic Mexican chorizo and tiger shrimp, wrapped in flour tortillas, covered with smoked Gouda white enchilada sauce, topped with cheddar jack cheese and baked to perfection. Served with Spanish rice.
Luau Pulled Pork Nachos – 14.99
Single layer of tortilla chips loaded with smoked BBQ pulled pork, pineapple salsa, caramelized onions, cheddar jack sheese, shredded romaine lettuce and fresh diced tomato. Finished with cilantro sour cream and spicy sriracha. Sweet, tangy, spicy and delicious.
Cinco de Mayo Chips n' Salsa – 4.99
Basket of home-made seasoned tortilla chips & salsa.
Add Ons:
Sour Cream - .99 | Chipotle Ranch - .49
*Item may be cooked to order. Consuming raw or undercooked meats, poultry, seafood, shellfish, or eggs may increase your risk of foodborne illness.