"The Frog" Tiki Bar
Current Hours :

Thu / Fri / Sat - 4pm

Live Music :

Fri & Sat 7pm (through the end of September) | Sat 6:30-10:30pm (starting 10/6)

Trivia Thursday :

starts 6:30
call for the many upcoming events information

(989) 366-6347

. Frog Days of Summer Party - Sunday 9/1/19 -- Open at Noon and music all day - no cover

Special Hours :

OPEN Christmas Week 12/26 - 12/31
OPEN ALL YEAR ROUND
The only tiki bar in the area!
Come and experience the Margaritaville atmosphere at "The Frog"
Grill Menu Available
Happy Hour Daily (Must Be 21)
~ FALL HOURS ~
OPEN Thu / Fri / Sat 4:00pm
**MUST BE 21 TO ENTER TIKI BAR**
Trivia Thursdays starts @ 6:30pm
Live Music Fri & Sat 7:00-11:00pm through the end of September
Live Music Sat 6:30-10:30pm beginning in October
Tiki Bar Party Photos
Photo Galleries
The Frog
Tiki Bar & Grill
Menu Available 4:00-10:00pm Tue/Wed/Thu & Noon-10pm Fri/Sat/Sun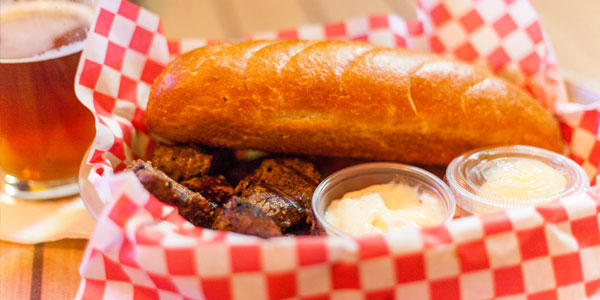 Tiki Bites
New England Crab Cakes – 14.99
Two New England style crab cakes served over field greens & adorned with chili-lime aioli.
The Mighty 12" Pretzel – 14.99
This colossal 12" soft pretzel is served warm, basted with butter & sprinkled with coarse salt. Served with nacho cheese, chipotle ranch & spicy brown mustard dipping sauces.
Chilled Jumbo Shrimp: ½ lb. – 16.99 or 1 lb. – 29.99
Served with cocktail sauce & lemon wedges.
Caprese Portabella Cap – 11.99
Portabella mushroom cap, fresh mozzarella and cherry tomatoes, baked to perfection and topped with fresh minced basil and balsamic glaze. Served with crostini.
Sun Baked Bruschetta - 14.99
Artisan flatbread basted with garlic butter and covered with sun-dried tomato pesto, artichokes, Kalamata olives, mozzarella & feta cheese. Baked to perfection & drizzled with olive oil.
Add Chicken – 2.99 | Add Shrimp – 5.99
Our Signature Tiki Steak Bites* – 14.99
Beef Tenderloin seasoned and grilled. Served with creamy horseradish sauce, honey butter & a loaf of bread.
Kettle Chips Basket - 4.99
Salads
Michigander Salad - 11.99
Romaine and spring mix blend, locally sourced dried cherries, apples, red onion, candied walnuts, feta cheese & Raspberry Vinaigrette on the side. (Wrap upon request)
Grilled Pineapple Salad - 11.99
Grilled romaine heart, adorned with bacon, grilled pineapple, red onions, toasted coconut, pecans & queso fresco cheese. Served with Pineapple-Mango Vinaigrette on the side.
Beach Bum Steak Salad* - 14.99
Romaine and spring mix blend, seasoned steak, sautéed portabella mushrooms, red onion, cherry tomatoes, bleu cheese, croutons and choice of dressing. (Wrap upon request)
House Made Dressing Choices:
Ranch • Bleu Cheese • Pineapple-Mango Vinaigrette • Raspberry Vinaigrette
Salad Options
Grilled Chicken – 2.99 | Baked Salmon - 4.99 | Steak* – 6.99 | Shrimp – 5.99
Burgers, Sandwiches & Such
Served with Kettle Chips
Upon Request: Lettuce, Tomato, Onion & Pickle
All Burgers are prepared medium-well unless otherwise specified
Tiki Burger* – 10.99
8oz. Steak burger with your choice of cheese - American, Swiss, Cheddar, or HOT Ghost Pepper Jack.
Cowboy Burger* – 12.99
8oz. Steak burger topped with caramelized onions, bacon, cheddar cheese & BBQ sauce.
Black Bean Burger – 12.99
Vegetarian black bean patty with sharp cheddar cheese, guacamole & chipotle mayo served on the side. Eat a little healthier without sacrificing flavor!
Jerk Salmon Sandwich – 13.99
Jamaican jerk seasoned Atlantic salmon, baked and topped with fresh mango-cucumber salsa, served on a bun. Served with Jerk-Lime aioli on the side.
Carolina Pork Sliders – 11.99
Three sliders made with tangy pulled pork & topped with fresh coleslaw.
Chicken Bacon Guacamole Wrap – 12.99
Seasoned chicken, bacon crumble, guacamole, lettuce, tomato tossed in house-made ranch dressing & wrapped in a flavored tortilla.
South of the Border
Chipotle Chicken Tacos – 11.99
Two soft shell tacos, filled with house-made chipotle chicken tinga, mango-cucumber salsa, and queso fresco. Served with shredded lettuce, diced tomato, Spanish rice & tortilla chips.
Chickpea Tostadas – 11.99
Two tostadas brushed with cilantro-lime crema and topped with Latin-American seasoned Chickpeas, crushed walnuts, lettuce, diced tomato, diced red onion and queso fresco. Served with salsa, Spanish rice and tortilla chips.
Luau Pulled Pork Nachos – 14.99
Single layer of tortilla chips loaded with BBQ pulled pork, pineapple salsa, caramelized onions, cheddar jack cheese, shredded romaine lettuce and fresh diced tomato. Finished with cilantro sour cream sauce and spicy sriracha. Sweet, tangy, spicy and delicious!
Tiki Torch Nachos – 13.99
Our Summer FAVORITE! Home-made tortilla chips, cheddar-jack cheese, refried beans, red onions, black olives and tomatoes. Stacked two layers high, seasoned and baked to perfection! Served with salsa (jalapenos upon request).
Add Beef OR Chicken – 3.99
Cinco de Mayo Chips n' Salsa – 4.99
Basket of home-made seasoned tortilla chips & salsa.
Island Chips n' Salsa - 6.99
Basket of home-made seasoned tortilla chips & house made pineapple salsa.
Add Ons:
Sour Cream - .99 | Guacamole - 2.49
*Item may be cooked to order. Consuming raw or undercooked meats, poultry, seafood, shellfish, or eggs may increase your risk of foodborne illness.